Our Origins
Qi Veterinary Clinic was founded to bring holistic health care to dogs and cats in and around Burlington, Vermont. Its origin is the personal story of two individuals who came together with a shared vision.
Thérèse Fafard grew up in Greenville, New Hampshire. Born the second of six children in her family, her mother often said, "she was the second in command." The Fafard family owned a construction business which they made successful through hard work, fairness, and integrity. Thérèse internalized her parent's work ethic and applied it to her academic career, being the first in her family to go to and graduate from college. She attended Amherst college and graduated with honors. Thérèse worked as a French teacher, a paralegal, a customer support specialist, and a product development manager at Lotus Corp., and in several tech start-ups as the Director of Operations. Through many of her years in Boston, she moonlighted as a waitress to pay for her college education and her extensive martial art training.
Thérèse spent the better part of two decades in the school of Oom Yung Doe, learning eight true martial arts from China, including Kwon Do, Aikido/Hapkido, Udo/Jujitsu, Samurai Sword, Tai Chi Chung, Bagua Chung, Kung Fu, and Ship Pal Gae (18 weapons). With fourteen years of training, she achieved a 4th-degree black belt and the rank of Assistant Regional Head Instructor in the Boston area schools. This experience taught her how to develop and maintain a strong physical condition to prevent disease.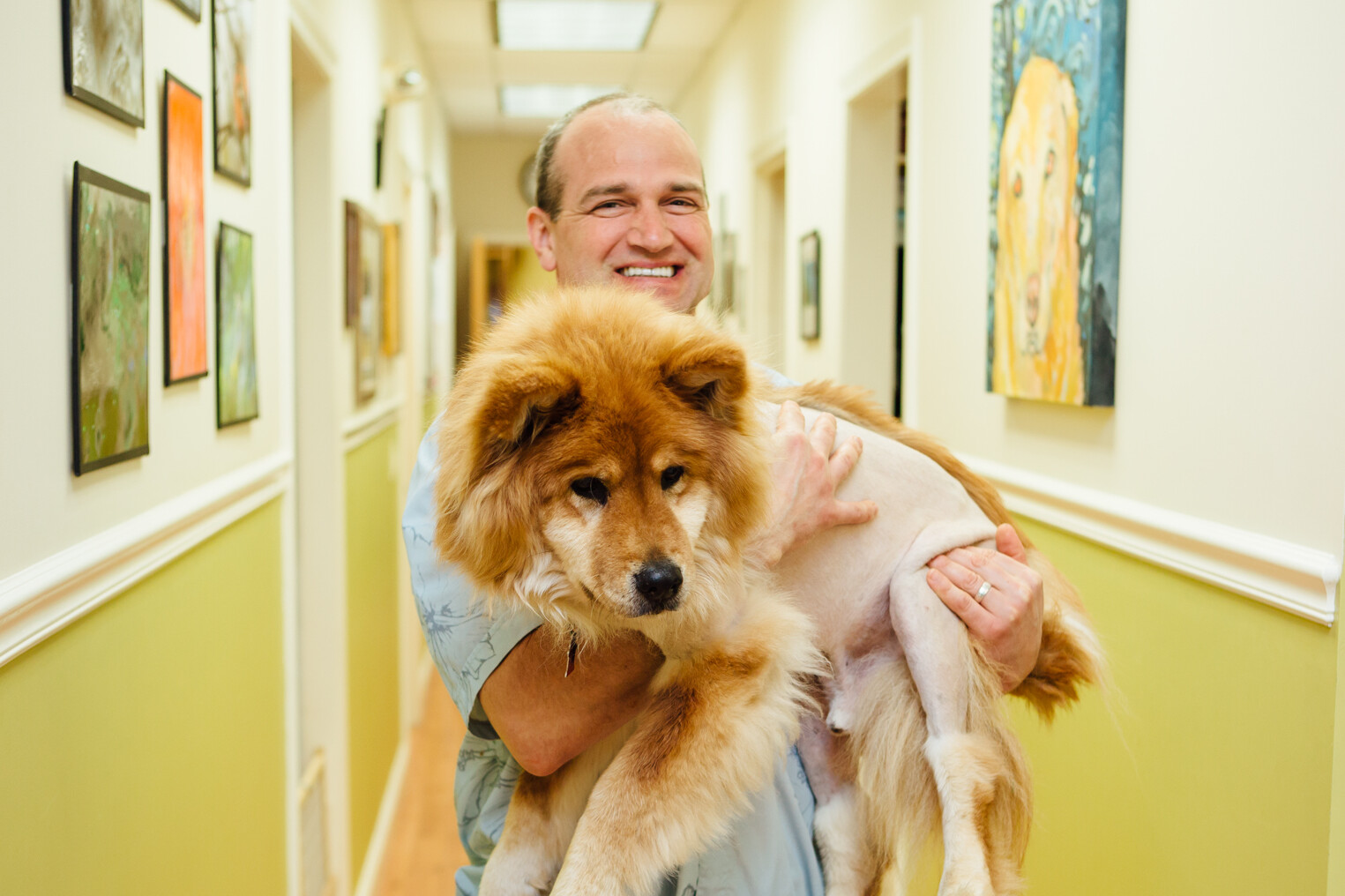 Nathan Heilman grew up in western Pennsylvania, the youngest of five children. His experiences with animals in the Barnyard Stompers 4-H club, on his Grandparents' cattle farm, and with his trusty companion, Audi the Rottweiler, drew him towards veterinary medicine. His father was a physician, and his mother was an attorney. This professional contrast led to some fiery debates around the dinner table! However, their strong work ethic was not up for debate, which set a good example for their children. Medicine was in his blood; becoming a veterinarian would make him a fourth-generation doctor. 'Heil-man' means healer in German.
Introduced by his brother Bradley, Nathan enrolled in the same style of martial arts that Thérèse was studying in, in Boston. Years after training in the same style in different schools, they met during a week-long retreat in Arizona on a dude ranch, studying Kom (curved sword). They met 'swinging swords in the desert.' This shared experience in traditional martial arts taught them that true preventative health comes from specific movements that develop both the mind and body.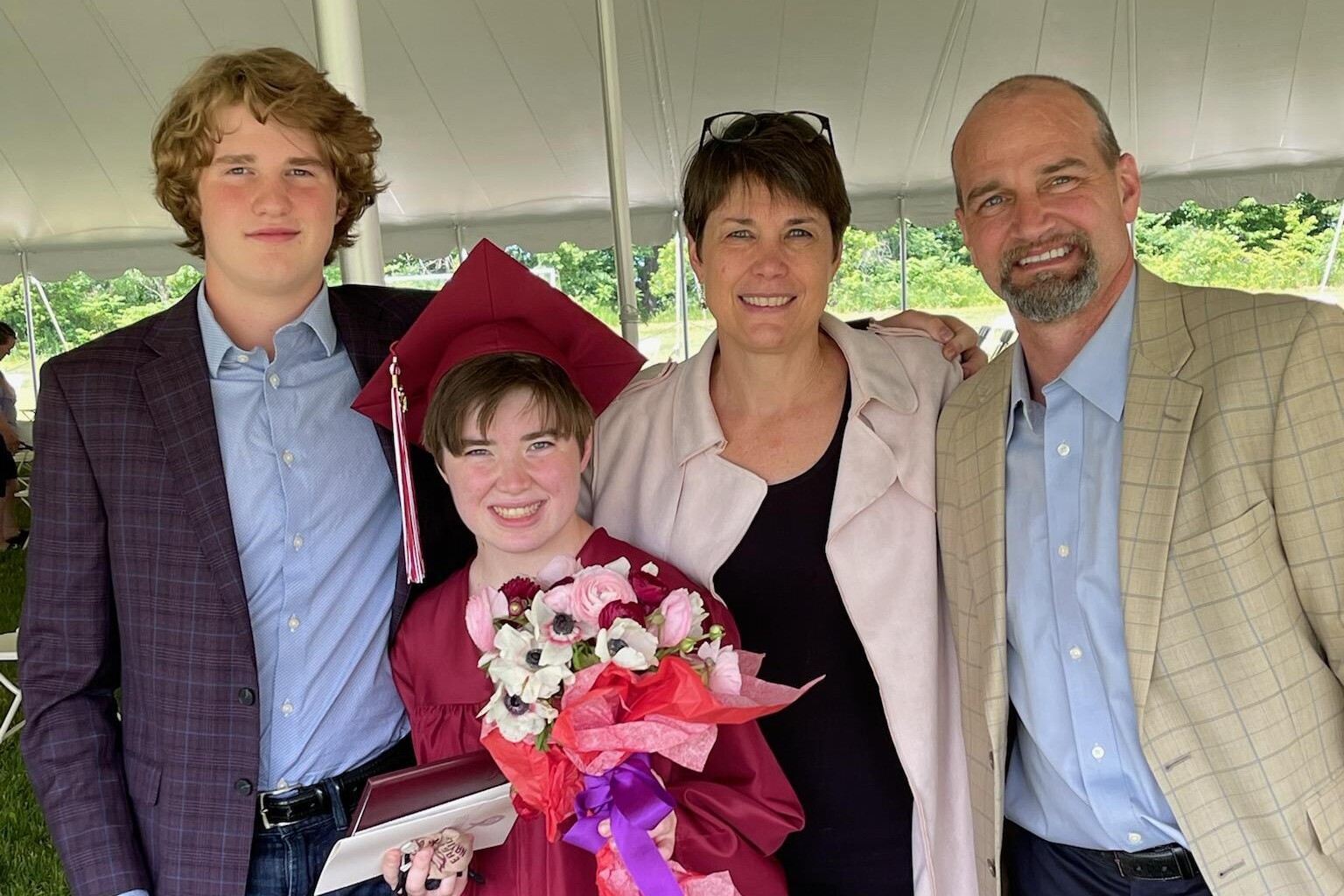 Thérèse and Nathan married and moved to Vermont in 2000 to begin a family. They had two children, Emmaline and Giles. Shortly after Emmaline's birth, it became clear that she had autism. Thérèse immersed herself in study to help her daughter achieve the highest mental and physical function possible, given Emmaline's condition. Nearly all these treatments were considered holistic and alternative medicine. Emmaline underwent a natural detoxification regimen, allergy, and food sensitivity testing and avoidance, the best whole food nutrition, and several functional neurology programs, integrating movement to develop the mind. These efforts were intense and, at times, all-consuming.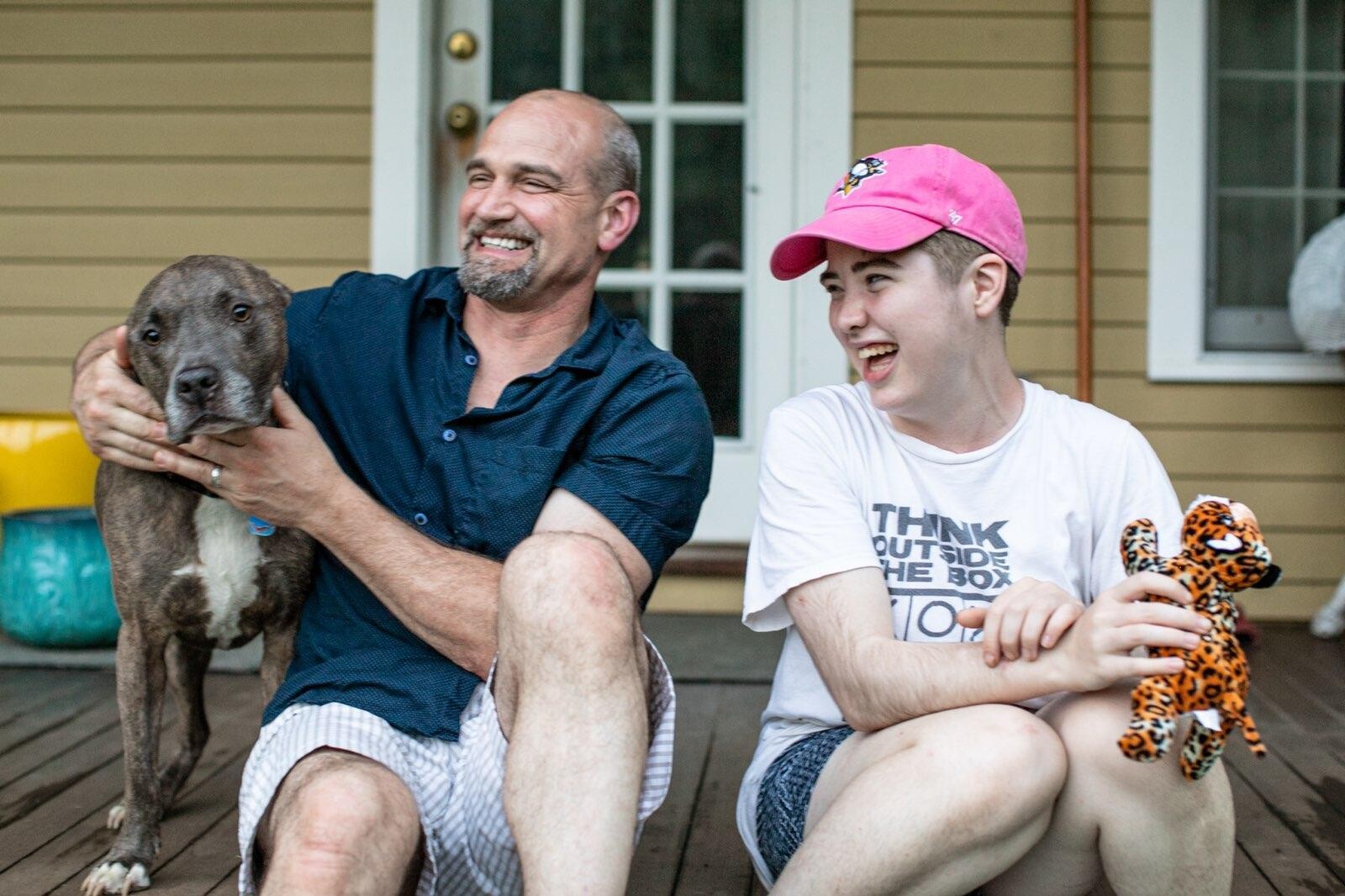 Meanwhile, Nathan was becoming disillusioned by the practice of conventional veterinary medicine. Specifically, he was noting how starch-based diets and over-vaccination were hastening disease development in dogs and cats. Short appointment times allowed for only cursory patient examinations and less discussion of proactive health measures such as nutrition, lifestyle, relationships, and appropriate use of medicines. The faster-paced medicine was more about disease management and symptom resolution and not about addressing health problems at their root cause. He figured there must be a better way of practicing medicine. He found his new career direction in the framework of Chinese medicine.
Thérèse and Nathan's common past experiences, personal struggles with their daughter, and professional experiences all converged to inspire the formation of something different. Following Nathan's training in acupuncture, he studied herbal medicine under Dr. Steve Marsden, a leading educator, and practitioner in veterinary Chinese medicine. Qi Veterinary Clinic in Burlington, VT, was then formed in the style of the Marsdens' clinic in Edmonton, Alberta, with a focus on client education, nutrition, and proactive health maintenance for animals.
The clinic's foundation is in Chinese medicine and how nature informs our care for and coexistence with animals. When animals eat the proper whole food diets in correct amounts, move uninhibited with their senses stimulated, and exist in harmonious relationships, they generally maintain excellent health.
Qi Veterinary Clinic began in September 2007 as the country descended into recession. The clinic slowly grew with the support of the community eager to embrace holistic health care for their beloved quadrupeds. We added additional staff and evolved from a complimentary care facility offering acupuncture, herbal medicine, and nutritional consultation to a full-service veterinary facility. While the addition of technology-aided us in making more definitive Western medical diagnoses for our patients, the foundation of the practice remains manual therapies (acupuncture/chiropractic) to improve circulation while using nutrition and herbal medicine to reinforce these therapeutic effects.

Our Businesses
Qi Vet Clinic has always sought to purchase the highest quality herbal medicines available for our patients. We've always purchased these herbs through A Time to Heal (ATTH), an herbal distributorship for veterinarians founded by Dr. Mona Boudreaux, a veterinarian herself. Mona was, and continues to be, a leading member of the American Holistic Veterinary Medical Association (AHVMA), an association of roughly two thousand holistic veterinarians across the country. ATTH sells acupuncture and herbal supplies to approximately 750 veterinary clients, mostly members of this tight-knit, supportive organization. The model of ATTH combines education and support for veterinarians practicing Chinese medicine on their companion animal patients, predominantly canines, felines, and equines. For years, Mona offered a course introducing veterinarians to Chinese medicine and the proper prescription of Chinese herbal medicines. Dr. Steve Marsden, who Nate trained under, was one of the chief instructors for the course.
In our first three years in practice, Qi Veterinary Clinic became ATTH's leading customer. In 2010, Mona invited Nate to come to Wonder Lake, IL to teach a portion of her Introduction to Chinese Herbal Medicine for Veterinarians. In 2014, Mona offered to sell ATTH to Nate and Thérèse, and owner-finance it over 8 years (from 2015-2023). She wanted to see the company continue to flourish but knew that it needed an infusion of energy and expertise to grow it further. Mona knew that Nate could assume the responsibilities of continuing the educational arm of ATTH. Nate knew what Mona would discover in the years following the sale of the business; that Thérèse's business acumen and project management skills would propel the business to a different level of success. Thérèse and Nate moved the company from Wonder Lake, IL, to Shelburne, VT.
They began offering the Chinese herbal medicine course at their home in New Haven, with Nate lecturing and Thérèse making wonderful meals for the veterinarians who had come from around the country. Thérèse learned the business from top to bottom and trained a wonderfully capable duo (Kirstin and Laurie) to perform the day-to-day fulfillment of ATTH's orders. Mona remains a consultant and contractor to the business, continuing to contact her loyal clientele at veterinary conferences throughout the year.
A Time to Heal sells herbs from three main manufacturers, Natural Path Herb Company (NPHC), Evergreen Herbs, and Kan Herbs. ATTH is the exclusive distributor of Natural Path Herb Company's formulations in the United States. These three companies have an exceptional reputation for quality, purity, and therapeutic efficacy. Dr. Steve Marsden owns NPHC. He purchases the highest quality Chinese herbs in the world grown by Das Herb. This German company owns its plantations in various microclimates around China. They hold organic growing certification from 27 countries worldwide, including the U.S., and their alcohol extraction process renders an exceptionally fine, potent, herbal granular concentrate.
Evergreen Herbs is owned by Drs. John and Tina Chen are renowned pharmacologists and authors of authoritative texts on using Chinese herbs and herbal formulas in humans and veterinary species. Kan Herbs partnered with Dr. Steve Marsden to make his patented veterinary formulations into tableted and concentrated liquid extracts. In short, ATTH carries and sells the very best products available to veterinarians. Being the exclusive distributor for Dr. Marsden's Natural Path Herbs has also allowed us to collaborate with him on educating future generations of veterinary Chinese herbalists.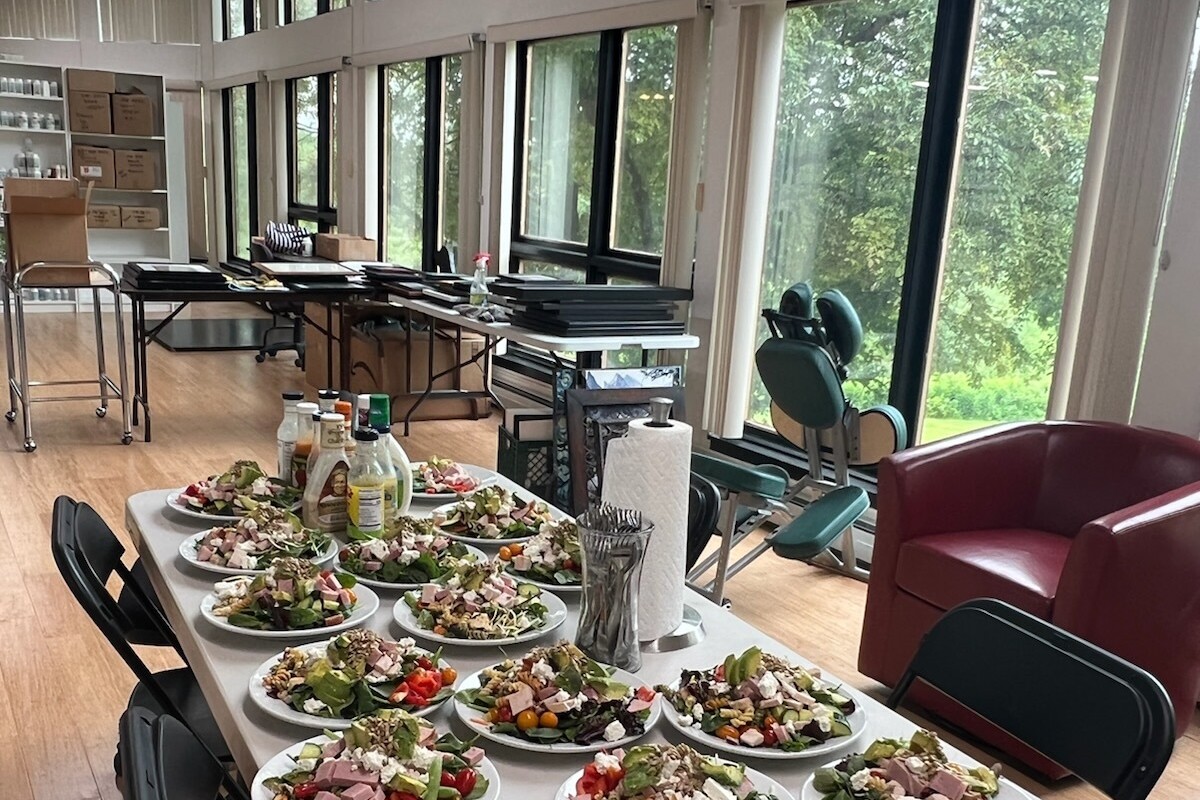 140 Webster Road
Operating both Qi Veterinary Clinic and A Time to Heal over the past five years has been synergistic and rewarding in many ways. The opportunity to teach Chinese medicine while practicing it has increased Nate's depth of understanding, and Thérèse has had time to grow A Time to Heal.
When Qi Veterinary Clinic entered its twelfth year and A Time to Heal its fifth year in Vermont (twentieth year, overall), Nate and Thérèse aspired to bring these synergistic businesses under one roof. In 2022, Qi Veterinary Clinic joined A Time to Heal at 140 Webster Road in Shelburne, Vermont in a beautifully renovated and cohesive space.
They wanted to bring this health center to fruition during a significant change in the veterinary industry. As of 2018, 36% of veterinary practices have been purchased by corporations. Recently, roughly half of the local veterinary practices that were privately owned have quietly sold to corporate entities. While the professionals who work in these practices are service-oriented, caring, and focused on patient care, the bottom-line for-profit sensibility of the corporate owner creeps insidiously into the equation. The focus of business is to 'beat the market,'and veterinary services is a growing sector with a target on its back.
These practices become more profitable, then are sold higher up the chain to larger and larger corporate entities with greater buying power and built-in efficiencies. The largest owner of veterinary practices in the United States is a prominent candy manufacturer that has diversified into the pet food and veterinary services sectors, including pet insurance and reference laboratory services. Think of it; these corporations make poor-quality food and treats, which promote disease. They own the hospitals where the disease is treated, the reference laboratories assisting in the diagnosis of the disease, and they additionally manage the risk of pet health care costs for the consumer.

We Have a Different Idea
At Qi Veterinary Clinic, we operate a clinic where we spend more time with patients and our clients. We emphasize whole foods, exercise, living more harmoniously in nature, and loving relationships with our patients. We strive to pay our staff a livable wage in Vermont, so they don't have to moonlight to support themselves. By keeping Qi Veterinary Clinic privately-owned, we will have the opportunity to show veterinarians from around the country how this medicine works in a clinical setting in beautiful Vermont.
A Holistic Approach to Pet Healthcare
Become a New Client.